This is part 2 of the Northern Lights series. Here is Part 1 – Getting to Stockholm and Part 3 – Dog Sledding, and finally seeing some Auroras 4 – Day trip to Narvik in Norway
It took us a good long while on a train and bus to get to the airport in Stockholm from our B&B. We had a good hour before our flight and as you can see from the image below, the Swedes are really very accommodating :-)
We were headed to Kiruna, the northern-most airport in arctic Sweden. At one point, Uday had even considered a train journey from Stockholm to Abisko via Kiruna, but 20 hours of train travel with only six hours of daylight simplified the decision :-)
Sweden may be cold, but in our opinion, the Swedes are definitely not. We had one of our best in-flight conversations with a Swede from Kiruna who was returning from business elsewhere. At the end of the flight, he not only offered to share his cab ride with us but also was sad that he couldn't join us on our way back a few days later when we had about 4 hours to spend in Kiruna! "If I weren't in an all morning meeting that day, I'd have loved to meet you and show you around."
Below : this is what entering Swedish Lapland felt like – I put together a short video with clips from Uday's camera, take a look :
Video : this is what entering Swedish Lapland felt like
We landed on an icy run-way marveling at how there was any traction on the plane's wheels. When we stepped out of plane, we were directly on snow and ice and had to walk a few meters to get to the little building they call airport.
Our final destination, Abisko, was about 60 miles (100km) away, and while there was a bus that would get us there, it wasn't leaving directly from the airport, and we weren't sure we'd make it to this one-and-only bus. So we shared a taxi with three British girls who were also headed to Abisko. An hour and a half later, we reached the little, quiet and nondescript arctic village – at 5:30pm – in complete darkness, with a gorgeous moon and plenty of stars already visible through the clouds.
A quick lay of the land – this is where we stayed: a hostel called Abisko.net (we took these pictures the next day during daylight, but it gives you an idea)
We checked into our hostel room. With bunk beds and without locks, these rooms were already high on its uniqueness-quotient. We quickly set about reading the paper-and-pencil bulletin board filled with advisories about weather, aurora sighting probabilities, rules of the house, kitchen and sauna etiquette etc. There was a large completely frozen lake just 20 minutes of a walk from the hostel from where the viewing of the northern lights would be unhindered. That's where we would head that night, though with the heavy cloud cover, no northern lights were expected. We unpacked and brought out our ready to eat packs for a quick dinner.  We had been amply warned that we would be able to get nothing but meat, more meat and reindeer meat at the few eateries that existed. Poor Rudolph!
It was now time to start the layering and preparation to step out. We wore our heat-conserving thermal inner layers (which we had purchased specially for this trip), non-cotton t-shirts, fleece sweaters, a down coat followed by the space-suit like overalls that the abisko.net hostel provided us with. None of our own layers, as thoroughly as we had researched and shopped,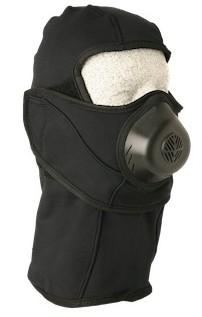 would have helped us like those overalls did. Two layers of special heat-conserving socks, heavy duty, layered boots (which they also provided), and finally a large mitten over our under-gloves. Uday had also researched to find the best protection for the head – the Cold Avenger as it is aptly called.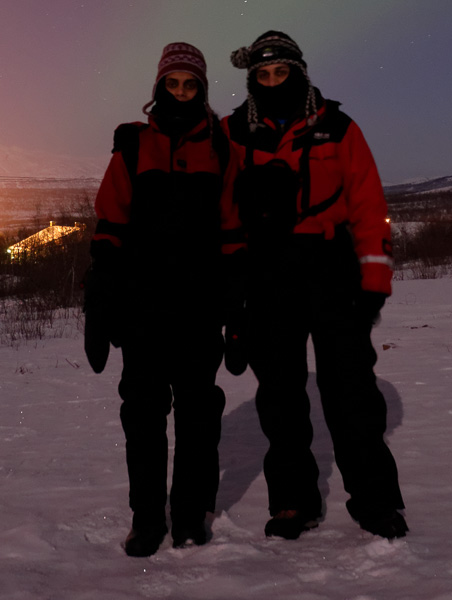 We pulled this on and our woolen caps over it. And about 20 mins after we had started to dress, we were finally ready, looking like a pair of astronauts, weighing at least a few kilos more but all set to brave the cold. And, on we marched to the frozen lake.
Although the southern skies were clear and the stars were shining through, the northern sky from where the auroras usually arise was completely covered with clouds. Not a good sign at all. It was our first evening and we were filled with optimism. Anything could still happen, we told ourselves. Within a few meters of walking out, my eyes were beginning to feel strange. My eyelids were starting to get sticky, and we had no fingers to  try removing the irritant. Ugh! A few meters on, Uday stopped again to look and could see it better. The moisture in the air was settling on my eyelashes condensing into water and quickly refreezing the lashes together! If we touched it, we only caused more condensation causing more ice formation! Hilarious. Eyes, like the rest of human body, are truly miraculous. Somehow, I forgot the annoying sticky feeling and it was amazing how much we could see in the blackness of the night, without any lights.
We walked downhill, under the train tracks, crunching on the snowy-icy path that winded around and left the little village quickly. We were all alone, in absolute silence and stillness. Bare leafless trees guided us along the undulating path and slowly the small patch of white at the distance started to grow larger.
It was entirely dreamlike, such a misty, snowy vision appearing gradually in front of us, with an occasional shimmer or glitter. Such pure, untouched, unblemished beauty!
We were so enamored by the sight that we didn't really care that we saw no northern lights that evening. We were on a beauty-high  in any case. We took plenty of fairly pointless pictures of the large, entirely frozen lake :-)
We walked further into the lake and other than the deep, low sounds of the ice shifting and crackling, there was absolute silence all around us. We had been told that the ice was about a meter thick and that one could drive a truck on the lake without fear of cracking through. We did walk gingerly though. Later during the stay, we would see snowmobiles whizzing on the ice and using the lake for a shortcut to avoid taking the long road around it!
We returned late into the night and were happy to shed our extra layers and extra kilos. Sleep came easy that night – a deep, dreamy, pleasant sleep filled with unearthly but beautiful images.
This is part 2 of the Northern Lights series. Follow the story here Part 3 – Dog Sledding, and finally seeing some Auroras
Other parts in the series:
1 – Getting to Stockholm | 4 – Day trip to Narvik in Norway
Do share your thoughts below..