[This was the second leg of our ~3000 mile journey in the great American west. Here are the links to the
first
, 
third
,
fourth
&
fifth
parts]
We left the beautiful sand dunes of Colorado, and headed westward towards a city called Page, in Arizona. Our real destination was a campground in Wahweap bay, just off Page, and situated inside the Glen-Canyon national park.
While crossing Utah (the route takes you first through Utah, and then onto Arizona), the scene started to change quite dramatically. First the hills and forests gave way to large open fields which then turned into barren land and eventually into red rocks and canyons. As the sun set, we were driving through red Indian reservation areas of arid, desert lands, and tall canyons. No vegetation, no animals and no humans in sight for dozens of miles. The loneliness of this part of the country was eerie. The harsh landscape really felt unearthly, as if we had landed on the moon or on mars.
We reached the Wahweap bay campground past dinner, and quickly went about setting up our tent.  Amazingly and thankfully, we were able to shower there (timed at $2 for 15 minutes of water!).
The weather was pleasant at night, but quite windy. We'd underestimated  the wind and upon returning from a walk, found our fully setup tent a good 100 feet away from where we left it!
The next day, we had a 'full' Arizona sun – temperatures went as high as 35c. We had booked a cruise that would take us to the famous "Rainbow Bridge" through the beautiful Lake Powell.
Lake Powell happens to be a huge reservoir on the Colorado River, straddling the border between Utah and Arizona (most of it, along with Rainbow Bridge, is in Utah). It is the second largest man-made reservoir in the United States.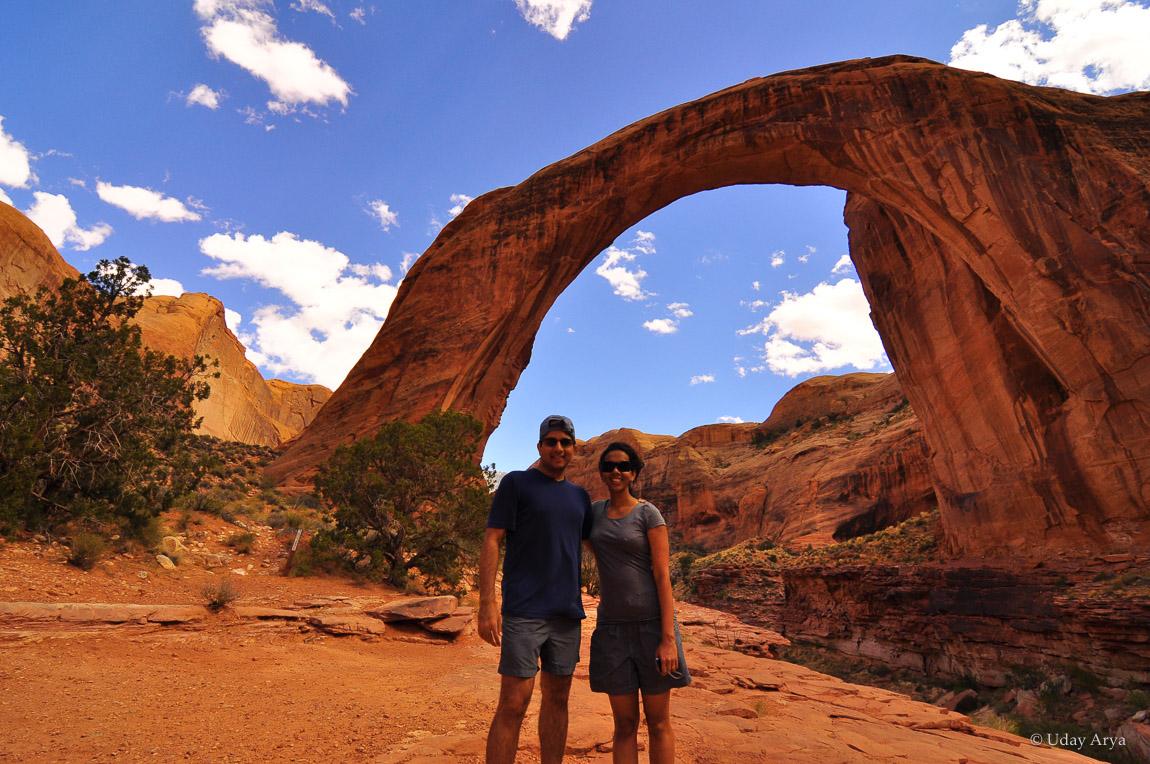 Us at the Rainbow bridge
After the day was almost over, and right before sunset, we headed to a place a half-hour away called the "Horseshoe-bend".
Here the Colorado river makes a dramatic turn which can be seen from over a cliff which is more than 1,000 feet over the river. (To put this in context – the Eiffel tower is about t 980 feet above ground, so this feels as if one were standing at that height above the Colorado! – just magnificent.)
It was really beautiful – and very windy. At several points that evening, while climbing slippery rocks, we felt we could well be blown away – and not just by the beauty.
We returned to the comfort of our tent after a long day out, soaking in moments that have stayed with us to this day.
Other parts of this road-trip
2. Lake Powell, Rainbow Bridge and the Colorado's horseshoe bend